Invitation to the Second Annual Hike for Nepal, UK 2018
---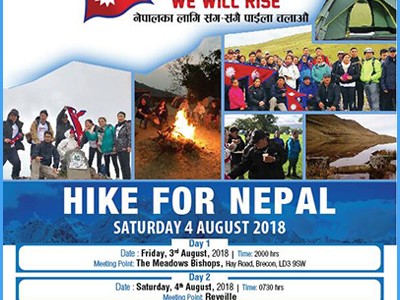 In my capacity as the incumbent Chairman of the Pokhareli Manch UK (hereafter "PMUK"), it is my distinct pleasure to invite you to the Second Annual Hike for Nepal (hereafter "the Event") scheduled on Saturday, 04 August 2018 at 1000 hrs at The Meadows Bishops Meadow, Hay Rd, Brecon, Powys, LD3 9SW in Wales.
For your information, the initiative for Hike for Nepal was started in Hong Kong by We Will Rise Foundation (hereafter "WWRF"). This Foundation has been at the forefront of charitable activities in Nepal following the devastating earthquakes in 2015. Among one of its objectives is to promote tourism in Nepal to the international community; proudly declaring Nepal is safe to visit.
Last year on 19 August 2017, in joint-collaboration with Brecon Nepalese Society (hereafter "BNS") PMUK successfully organised the First Annual Hike for Nepal in Wales, UK. Our purpose for organising the event was to promote tourism in Nepal among the local British and Nepalese community in the UK by climbing the highest mountain in South Wales (i.e. Pen y Fan). We were also ably supported by the Nepalese Embassy, UK.
In this year's Event, we expect roughly 200 people to attend this Hike. We are also honoured to be hosting the Nepalese Ambassador to the UK ( His Excellency Dr Durga Bahadur Subedi). We have also invited the Local MP, Mayors and councillors of both Brecon and Talgarth Town Council to the event. The Founders of WWRF will also be attending. It's our great honour to welcome the 14 times Mount Everest Summiteer and Guinness world record holder in 14 different categories a Nepalese personal Mr.Thaneswar Guragai in the event . The outline programme of the day is as follows:
1000 hrs – Arrive/ Meet and greet with tea/Coffee
1030 to 1200 hrs – Formal Program incl Reception/Brief on Hike for Nepal/We will raise Foundation/short speeches from the Ambassador of Nepal/ Local MP/Mayors of Brecon and Talgarth Town Council.
1200 hrs – Brief on hiking on the black Mountain (Self-arrange packed lunches)
1230 hrs – Move to the respective starts points and Hiking
1600 hrs – All arrive back to the finishing points and move back to the Bishop Meadow
1630 to 1800 hrs – Curry Supper (Pay as you dine) followed by a cultural show.
Dress for the day is casual or suitable for hiking.
Please do not hesitate to contact me or the coordinator of the event Maj(Retd) Khusiman Gurung MVO on 07980 866001 if you have any queries on the details provided above.
PS. Could you please confirm your name and number of participating members in your group at the bottom of this message for catering purpose and forward as your add . Also , each participant is required to book the pitch for camping individually in well advance of event date to avoid disappointment at the last minute. While booking please use the reference 'Hike for Nepal'
We look forward to welcoming in the event .
Yours faithfully
Mr. Man Prasad Gurung Chairman
Pokhareli Manch UK
Tel:(+44) 07846421875
Email: maangrg@hotmail.com
pokharelimanchuk@gmail.com
info@pokharelimanchuk.com
Notice Board
---
6th Peeplal Nepal Cup T2o Cricket Tournament -2023 VENUE: Reading Cricket Club Sonning Lane RG4 6ST Date: 25 June 2023 02 July 2023 Time: 9am To 7PM BBQ & Nepalese meals available and Raf...